Surrey Satellite Technology LTD


SSTL is an independent satellite manufacturer within the Airbus Defence & Space group. We have been delivering small satellite missions since 1985, employing 500 staff, Facilities in Surrey, Kent, Hampshire & Colorado. 30 years is the longest for a satellite manufacturer in our field, which gives us the experience to justify our reputation as the world's premier provider of operational and commercial satellite programmes. In that time we have launched 47 satellites, an average of 1.5 a year since 1990.
Services offered:
Provide complete in-house design, manufacture, launch and operation of small satellites
Deliver complete mission solutions for remote sensing, science, navigation and telecommunications
Deliver space training and development programmes including on-the-job customer training
Design and build remote sensing and communications payloads
Supply avionics suites and subsystems
Build and install ground infrastructure
Provide consultancy services
We first changed the economics of space in the late 1970s when we pioneered 'commercial off the shelf' (COTS) satellite technology. This process took standard consumer technology, such as those used in personal computers, and adapted them to the unique environment of space. Until then, satellite equipment was purpose-built for space travel, at huge expense and taking many years, with the result that the technology was obsolete by the time of launch.
Typical missions include:
Earth observation and imaging
Navigation and telecommunications
Scientific research
Military/defence purposes
Technology demonstration (testing an instrument in space)
We can develop satellites throughout their life cycle – from design and build through to launch and in-orbit monitoring and maintenance – or any stage of that cycle. For customers who want to monitor and maintain their own satellites,  we set up their ground station and train their in-house team. We are able to offer such flexibility because we design, build, assemble and test our satellites and almost all their components in-house.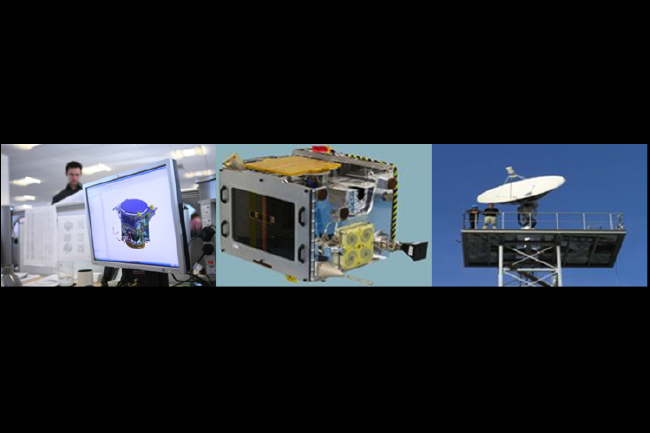 The SSTL satellite platform range
Contact person
Mark Ferris, Mechanisms Team leader
Email: m.ferris[at]sstl.co.uk
Tel: +44 (0)1483 803873
SSTL Official Web Page: http://www.sstl.co.uk/